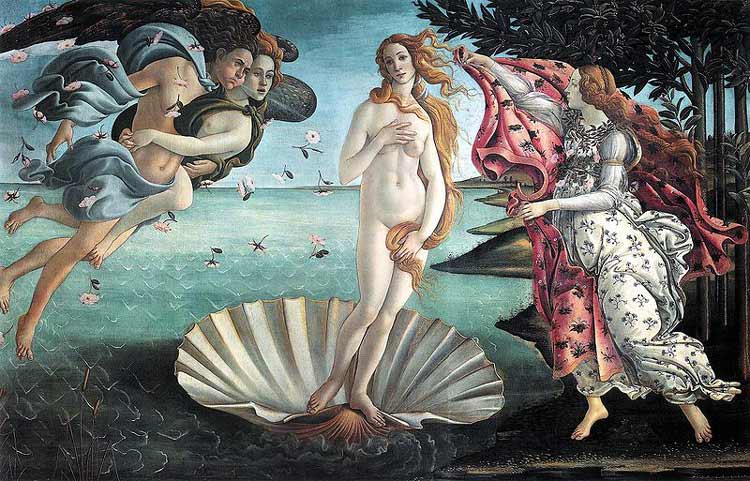 HB: We traveled yesterday to Florence for the last time, and they definitely saved the best for last. We went to two of the best museums located in Florence: the Uffizi Gallery and The Academy. The Academy has many sculptures by Michelanglo including the famous David, which is definitely a larger than life sculpture. At the Uffizi, we saw many paintings that we not only learned about in our Arts and Civilization class, but also within our International Horticulture class.
Within the Uffiti, we saw two paintings that I was really excited to see. These paintings were by the famous Botticelli. One was
La Primavera
, which means Allegory of Spring and it depicts Venus in the center of the painting with Cupid hovering above. The goddess Flora is represented to the right of Venus. And the other was the Birth of Venus, which depicts Venus standing on a seashell and is perhaps one of the most recognized works of art around the world. Both of these paintings are larger than life, and just jaw-dropping.
One thing that you notice within both of these painting is the horticulture. These are numerous types of fruits and flowers within both of these painting and botanists have actually been able to identify every plant -within both paintings. There are flowers even located upon Flora's dress which can be identified. It is amazing that not only the figures are painted with such technical skill and details but also something as small the flowers and plants are painted with perfection and such great technical skill. Also, if you look closely at La Primavera, you can see oranges surrounding Cupid. These oranges were a symbol that this painting was done for the famous Medici family that basically ruled Florence back in the 1400's. La Primavera was painted for Lorenzo di Pierfranceso de' Medici. He was a cousin of Lorenzo the Magnificent.
These painting were my absolute favorite seen in my time here in Italy and it was great to have a connection between the arts and the horticulture class I have been studying here in Italy for the past 5 weeks.